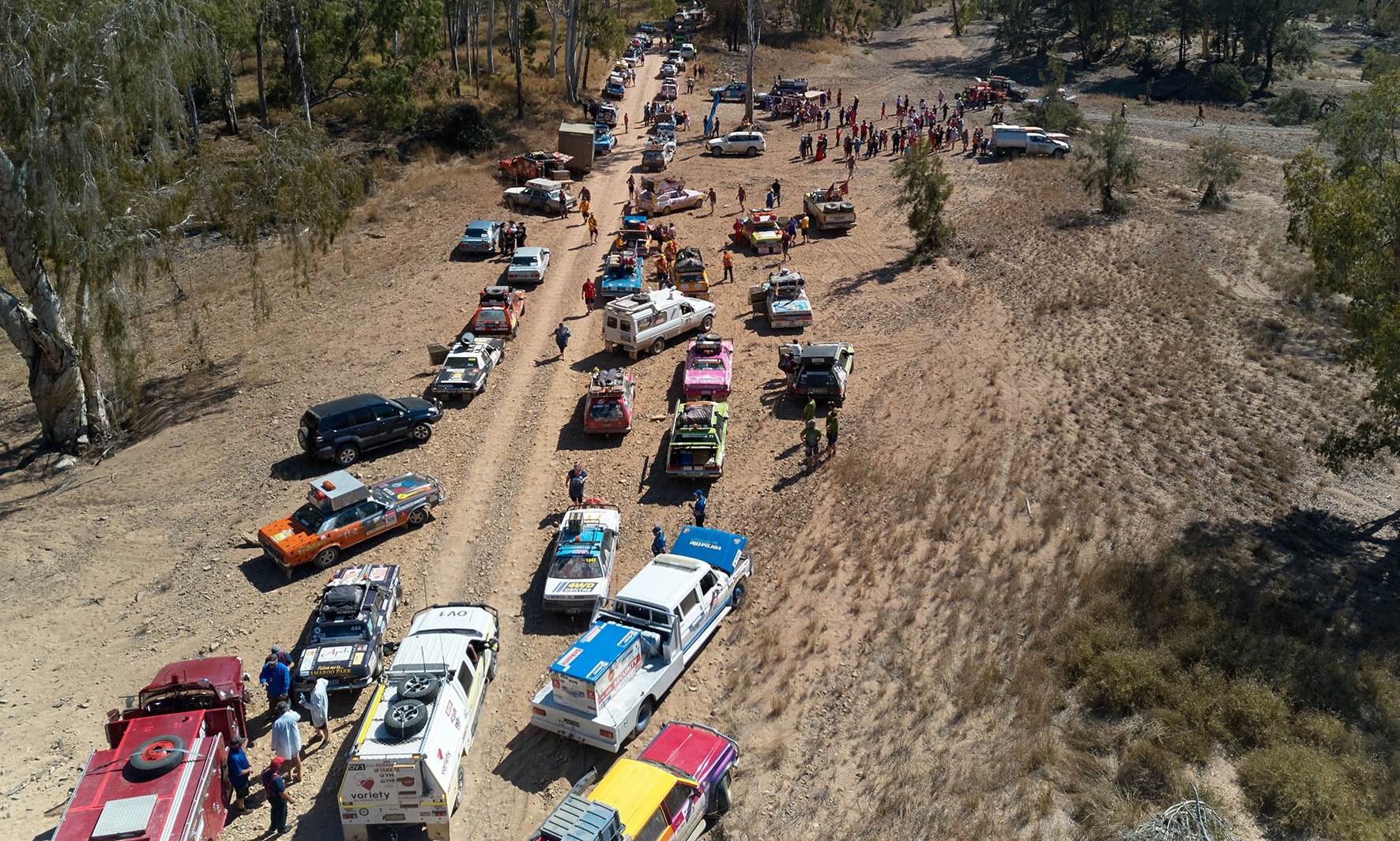 The Variety Bash
Two Circa shareholders, Nick Woodley and James Walshe, are taking part in the annual Variety club bash. The event sees 85 cars, all 30 years old or older, travel from Geelong to Townsville. Not surprisingly, the organisers never take the easy way, with participants constantly challenged with road conditions and navigation as they travel though some of the toughest parts of outback Australia.
The real purpose of this event to raise much needed funds for disabled and disadvantaged children in rural areas. The Victorian division of Variety raises approximately $1.3 million (2016), other states raise similar amounts and sometimes much more.
Follow their progress below or click on the link for more information
 https://vicbash2018.everydayhero.com/au/willybuccaneers
we are "the willy buccaneers"
"Most cars are themed, for example the Sesame characters, Alice in Wonderland, Where's Wally, Blues Brothers to mention few. Our 2 old Mercedes Benz 280SE are "The Willy Buccaneers" as all crew are members of Hobsons Bay Yacht Club. As we visit rural schools the children are delighted to see our cars and the characters that appear from them. At many of these schools, funds and educational equipment are delivered."
– James Walshe
week 1: we're underway and travelling through country victoria, into the wheat belt, and passed some brilliant silo art...
Week 2: Through Queensland back roads we go to silverton hotel and onwards
Back Roads
"On a back road between Emerald and Charlottesville in QLD. We passed road trains going through, carrying feed regularly. We had to pull over and let them go through as you can see, we couldn't see!"
– Nick Woodley
Cattle Station, Queensland
"This is about as dry as we saw. Standing on the edge of a cattle station in Queensland looking toward the western boundary of a 475000 hectare property, Broughams Gate."
–Nick Woodley
Silverton Hotel and Onwards
"Stopped at the Silverton Hotel continuing onwards towards Tibooburra, Cunamulla and Camerons Corner. Road conditions are very rough resulting in destroying a tyre."
– James Walshe
WEEK 3: Final days to Townsville
First and Only Puncture
"The final days to Townsville were married by our only puncture. We then catch up with the Queensland Bash in a dry river bed."
16 Mercedes
"At Townsville the Mercedes cars got together for a group photo. 16 Mercs in total with no break downs!!"
– James Walshe
Thank You for Your Support!
"The fund raising figures came in last week and Victoria raised 1.6 million, Queensland 1.3 million.
The 2 Buccaneers cars raised $28,000. An effort we are very pleased with, with thanks to you and all our significant donations."
– James Walshe and Nick Woodley